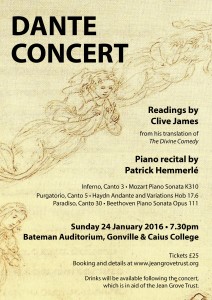 The Jean Grove Trust, the Blackfriars Ethiopia Project, is delighted to announce a forthcoming benefit concert.
On Sunday 24 January, Clive James and Patrick Hemmerlé will join forces to present an evening of readings and music. Patrick's programme, the Mozart Piano Sonata in A Minor, K310; the Haydn Andante and variations in F Minor (Un piccolo divertimento); and the Beethoven Piano Sonata in C Minor, Opus 111, will be interspersed with readings from Clive's acclaimed translation of Dante's Divine Comedy.
Drinks will be available after the concert, which will be held in the intimate space of the Bateman Auditorium at Caius.
Tickets cost £25.
For booking and more details click here.