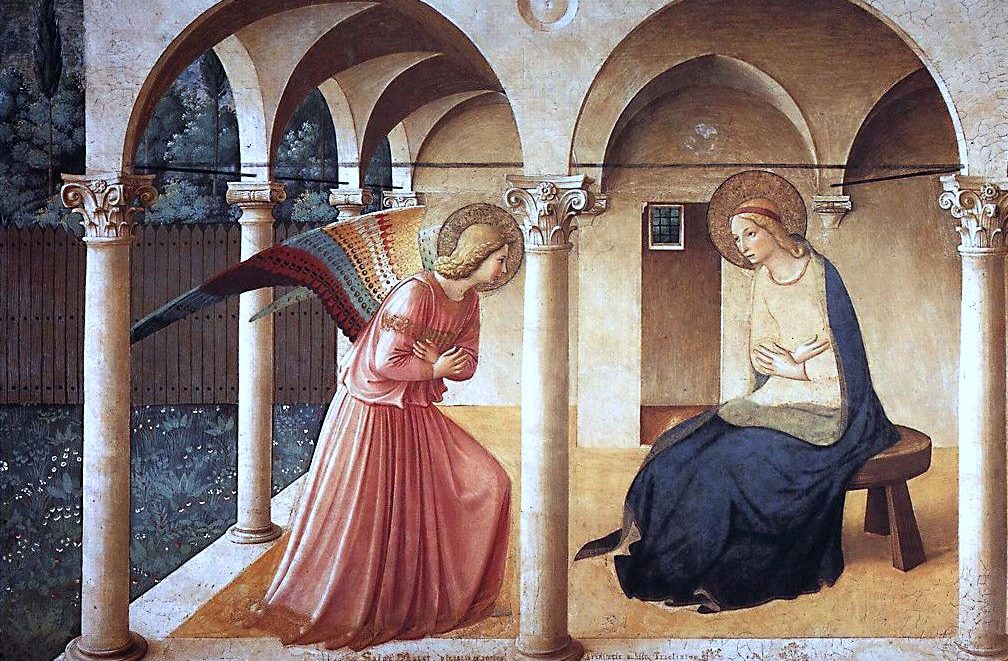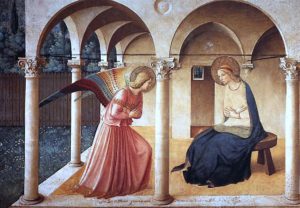 A homily from Fr Dominic White OP for the feast of the Annunciation, 25 March
Isaiah 7:10-14, 8:10
Ps. 39(40): 7-11
Hebr. 10:4-10
Luke 1:26-38
It seemed to come out of nowhere, when no one expected it, and caused massive disruption and upheaval. And immediately it brought a very real danger of death.Just to be clear, I'm talking about the Annunciation. Mary was a devout young Jewish woman, betrothed to Joseph, a devout Jewish man. Like all devout Jews to this day, they longed with all their hearts for the coming of the Messiah. But neither of them could possibly have imagined, in their wildest dreams, that it would happen like this. It was a massive upheaval to Mary's and Joseph's lives, disrupting everything. But what was worse, since Mary made it perfectly clear that she was a virgin, this child could not be Joseph's child. By Jewish Law, that would make her an adulterer. And adultery was punishable by death.But two things happen. First, when the angel has reassured her that all things are possible with God, Mary says, "I am the handmaid of the Lord, let what you have said be done to me." We might, very understandably, read this as one of so many deeply courageous and often disgracefully unsupported women who, throughout history, have accepted a completely inconvenient pregnancy. But Mary's words are a bit lost in translation (you'll know what I mean if you have a second language – some expressions just don't translate). In the original Greek of the New Testament Mary is using a form of the verb which is called the optative, or the choosing form. Mary is very consciously choosing this. She's saying, to use rather old-fashioned English, "Would that it might be so." In other words, she's saying a big YES.
Why on earth would she do this, knowing the risk? Well, the angel called her "full of grace", or, in some translations, "highly favoured". Again, a bit difficult to get into English. Literally it means, "you who have already been graced." The angel Gabriel is talking about Mary's Immaculate Conception. Right at the moment of her conception, and by the saving action of her Son's Death and Resurrection, far in the future, Mary was saved from that inbuilt human tendency to mess up, to wreck, to seek good where it's not to be found. This meant that Mary was utterly free, because she was utterly attuned to God. The Holy Spirit by whom she conceived was already breathing in her. It didn't mean she didn't feel the fear – just as we feel the fear in the heart of Covid-19, with people sick, most of us confined at home, wondering about jobs, money, family life, the future… But the song of God's grace in Mary was louder, more beautiful than the fears.A second extraordinary thing happened, which is recorded in St. Matthew's Gospel (Mt. 1:18-25). Joseph, Mary's betrothed, had every right under the law to "expose her to public disgrace", but he was a "righteous man" and unwilling to do that. So he thought he'd "dismiss her quietly". Being righteous is about more than only keeping laws– it's about relationship with God. And Joseph's relationship with God is deep because he dares to dream. This practical man, a carpenter, who emerges as a highly responsible husband and foster-father, dares to dream like his namesake, Joseph of the Old Testament (Gen. 37-50). And so he, like Mary, can hear the words of the angel, that this child is conceived of the Holy Spirit, and is to be named Jesus, because He will save his people from their sins. And so, in these two quiet, prayerful people, who have that gift of imagination which is a fruit of God's grace in us, that ancient prophecy we heard in the First Reading is fulfilled. The virgin conceives and bears a son, the saviour not only of the Jewish people but of the whole human race.
We are living the Annunciation now. Amid the disruption, upheaval, pain and fear, and the presence of death, wonderful things are happening as people reach out to each other's needs, but especially as Christians respond anew to the grace of their baptism. Cardinal Nichols, in his statement yesterday in which he explained that now churches have to be closed even to private prayer, reported up to a tenfold increase, yes, ten times, in the size of congregations, now taking part in Mass by internet, radio and TV. The Cardinal said how extraordinarily creative people are being in taking part in the Mass, singing and sometimes creating their own music. Mary, when she visits Elizabeth will burst into song (Luke 1:46-56), with her own inspired take on the song of Hannah, mother of the prophet Samuel (1 Sam. 2:1-10). We sing Our Lady's song every day at Evening Prayer, as the Magnificat, "My souls magnifies the Lord." This is a time to create, alone and with families, friends and flatmates, on our tables and musical instruments and on computers and across the internet.
Because the Annunciation was only the beginning. It's the first of the twenty mysteries of the Holy Rosary prayer, Our Lady's school of meditation. The last mystery is her crowning in glory. This is how the Church has understood St. John's vision of the Sign of the Virgin in the Book of Revelation, the woman clothed with the sun and her feet on the moon, crowned with twelve stars (Rev. 12:1-6). Mary is much more than the inconvenienced mothers of the children of the pagan gods. She has much more, too, than the reflected glory of the mother of a prophet. She is clothed with the sun, symbol of divinity – she participates in the divine life of God, as we do through participating in the Sacraments. Her feet are on the moon, a symbol for ancient people of the shadow: the dark, sorrowful and wounded side of our nature which needs healing if it is not be destructive. And the twelve stars would have been connected with the signs of the Zodiac, which were believed to govern the world. Nowadays, we would associate them with the unconscious of our personality, which can push us around not just for good, but for ill. But Mary has overcome, in Christ. With her, we too overcome in Christ. Weaknesses are turned to strength, sickness to health, death to life. Mary is crowned, in glory.
This terrible virus, Corona, means a crown, so called because of its shape. It has become the crown of thorns of the entire human race. Yet through Our Lady's intercession and example, we share in Christ's cross – and in his rising from the dead, and his ascending into heaven. Note how in Revelation John sees Our Lady glorified, yet suffering. She, with and in her Son, suffers with the sick and the dying now, the exhausted families and friends and doctors and nurses, the bereaved and lonely, and all of us who are in fear of what may come, for our own futures. But even now, we are sharing in God's glory: in the wonderful acts of kindness that are happening, the people who are turning to God, the renewal of faith, the start of the healing of a scandal-ridden Church. Perhaps we're seeing the the death of a culture of rage and insult, and instead a rising to new life in connection, relationship, love.
So we rejoice today, put off our Lenten fasting for a day. On Sunday, England will be rededicated to Our Lady – we'll be putting resources for this up on the Blackfriars Cambridge website. Another blessing of this time is so many friends in other European countries and maybe even further afield joining in with us by radio. Join in that consecration too of your hearts, you community, your country, our world. It really can be a new springtime for our world, through the young woman of Nazareth who, by God's grace, said a heartfelt YES.