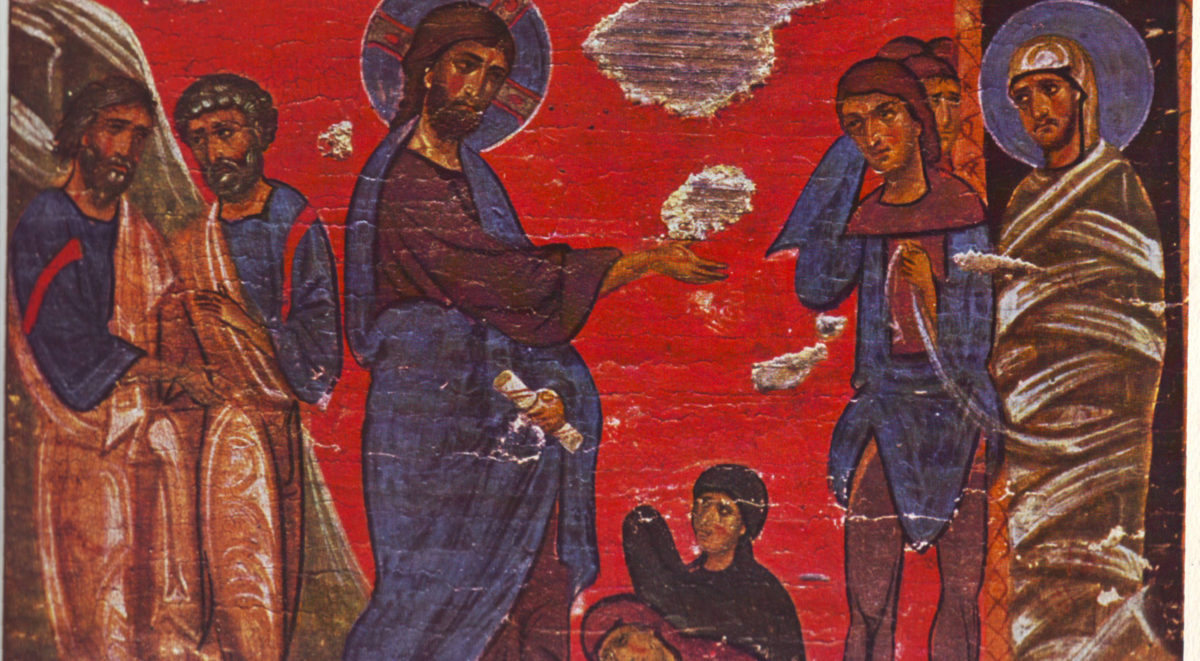 A sermon for the 5th Sunday of Lent, from Fr Bruno Clifton OP
And so, we begin Passiontide; the last two weeks of Lent; the final stage on the journey towards Jerusalem. Now, with Jesus, we ought to turn our faces towards God (God who is love) … but following Jesus sets us on the dusty path to the holy city, to violence, turmoil and death.
Many journeys in the Bible seem to set people on a path to nowhere. Israel's wandering in desolate wastes is surely at the back of Ezekiel's mind as he gazes on his vision granted in exile; a vision of death and of the consequences of sin.
'The hand of Yhwh was upon me; and he took me in the spirit of Yhwh and set me down in the midst of a valley; and it was filled with bones' (Ezek 37:1).
This is how God's promise of life in today's first reading begins: with a valley full of heat, of dry, dry dust and men's bones. Across this windswept, unforgiving landscape blows a whisper: 'son of man, can these bones live?' It is almost sarcastic.
I imagine this whisper was once more on the breeze as Jesus walked through the moonlit graves of the Kidron Valley to Gethsemane and betrayal
'Son of Man, can these bones live?'
Disoriented by the desert vision Ezekiel murmurs his faith, 'O Lord God, you know' (Ezek 37:3).
'Your brother' said Jesus to her 'will rise again.' (John 11:23)
Out in the dusty wilderness where people mind their own business, Jesus is not threatened. To return to Lazarus, to the political hothouse of Judea and the city, is to invite trouble. It is verging on the suicidal. No wonder Jesus delays.
But while this delay is to give glory to God, where there is glory there is death. Lazarus is dead. Jesus courts death in the city that stoned the prophets and Thomas, the doubter no less, sees only one way to this journey and says, 'Let us go too, and die with him' (John 11:16).
Paths to nowhere… This is nothing less than the claustrophobic nightmare of the psalmist, 'the cords of death encompassed me, the torrents of perdition assailed me; the cords of Sheol entangled me, the snares of death confronted me' (Ps 18:4-5). And yet, Jesus takes the path.
Misunderstanding and grief reveal Mary and Martha's hope in Jesus even as they both make the same, faintly critical statement in ironic welcome: 'If you had been here, my brother would not have died' (John 11:21, 32). For both sisters this is the first thing they say to Jesus. I am sure we have all accused Jesus of similar negligence.
For this is not salvation, forestalling the inevitable consequence of mortality. The raising of Lazarus is back to this life: like Jairus's daughter and the son of the widow of Nain whom Jesus also raised, Lazarus will die again. What is more, the man who walked out of the tomb faces a new threat.
'So the chief priests planned to put Lazarus also to death, because on account of him many of the Jews were going away and believing in Jesus' (John 12:10-11).
But in the midst of this nightmare, where is the sign? What is the point of this charade? Just as we might ask whether an elaborate vision of bones re-shaped into men gives us any confidence that Israel will return from exile to 'your own soil' (Ezek 37:14). This is what is going on with Ezekiel in the face of his vision of arid, complete death. It is a submissive incomprehension at God's almost mischievous question: can these bones live? O God, you know.
So many times in the scriptures, God reveals his love through the contrast between our frustration at his apparent impotence and his continued demonstration of his absolute loving authority. And, this is how we must understand Jesus's teaching today as he raises Lazarus. God's love has come amongst us and yet we barely understand its infinite power.
When Jesus says, 'your brother will rise again', Martha's response with admirable faith in some sort of resurrection fails to see life in front of her, until her brother walks from the tomb. Just as Ezekiel had to see dry bones given God's living spirit to understand.
We Christians should not have to go through the same steps to trust in God's love, even in the midst of disease and death, troubles that have come many times before into our world. And yet God understands that we do go through them; we do despair, we do find it hard to see how God's love is the absolute authority.
In 1941 John Buchan's novel Sick Heart River was published posthumously. In a departure from his usual ripping yarns, Buchan, near the end of his life, produced an adventure that confronts the horizon even as the Second World War raged. In Canada among Jesuit missionaries the native peoples were afflicted with a melancholy for death, a 'sick heart' and into this torpor news of war comes. Buchan's autobiographical hero Leithen is not immune to this melancholy:
He woke with a faint far-off tinkle in his ears. He had been dreaming of war and would not have been surprised if he had heard a bugle call. He puzzled over the sound until he hit on the explanation. Father Duplessis in his little church was ringing the morning Angelus.
That tinny bell had an explosive effect on Leithen's mind. This was a place of death; the whole world was full of death—and yet here was one man who stood stubbornly for life. He rang the bell which should have started his flock on their day's work. Sunk in weakness and despair they would remain torpid, but he had sounded the challenge. Here was one man at any rate who was the champion of life against death.
John Buchan, Sick Heart River 1941 (posth.)
We are called to rise to this challenge. In today's difficult times, we must remember and encourage others that in all these visions, these miracles, these signs, God is showing us something that looks beyond times and seasons; that goes deeper than particular battles and struggles and threats; and points to the fundamental, constant reality of God's love.
The sign of the raising of Lazarus is that in Christ is real life and proclaiming this is the Church's task.
'I shall put my spirit in you, and you will live' (Ezek 37:14a)