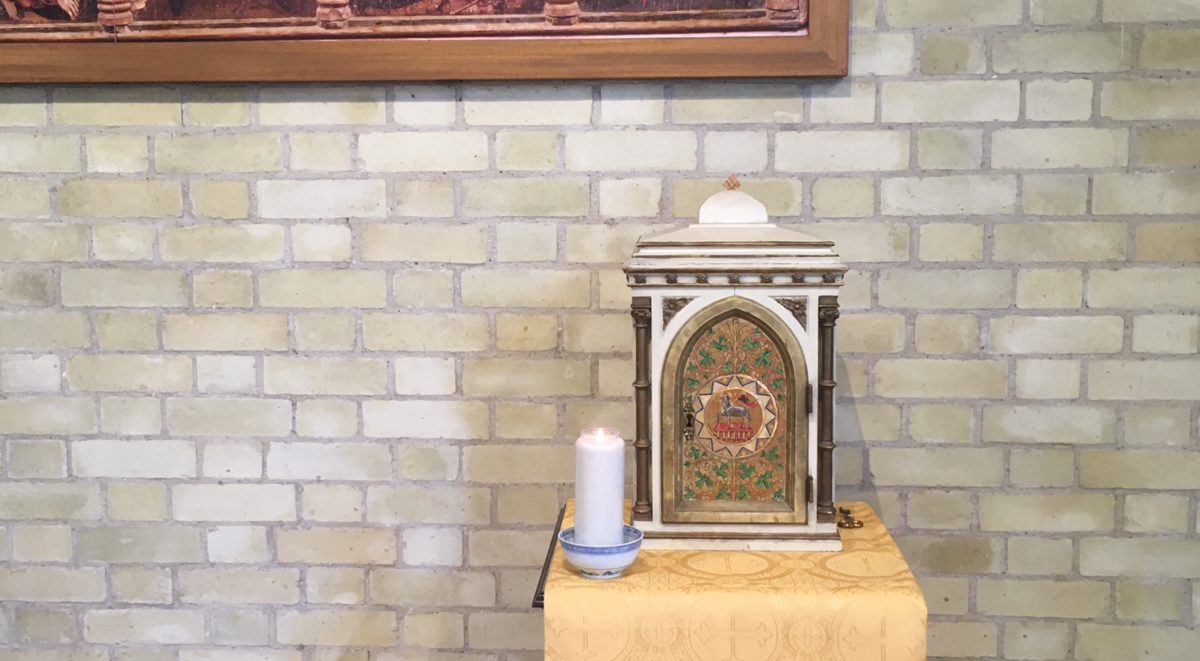 Opening Hymn
1 The heavenly Word proceeding forth
Yet leaving not his Father's side,
And going to his work on earth,
Had reached at length life's eventide.
2 By false disciple to be given
To foemen for his blood athirst,
Himself, the living bread from heaven,
He gave to his disciples first.
3 In twofold form of sacrament,
He gave his flesh, he gave his blood,
That man, of soul and body blent,
Might wholly feed on mystic food.
4 In birth man's fellow-man was he,
His meat while sitting at the board;
He died, our ransomer to be,
He reigns to be our great reward.
5 O saving Victim, opening wide
The gate of heaven to man below;
Our foes press hard on every side,
Thine aid supply, thy strength bestow.
6 All praise and thanks to thee ascend
For evermore, blest One in Three;
O grant us life that shall not end,
In our true native land with thee. Amen.
Kyrie & Gloria: Missa de Angelis (click here)
Liturgy of the Word
Click here for the readings on Universalis 
Creed (Credo III, click here)
Liturgy of the Eucharist
Offertory Hymn
1 Come, risen Lord, and deign to be our guest;
nay, let us be thy guests; the feast is thine;
thyself at thine own board make manifest
in thine own sacrament of bread and wine.
2 We meet as in that upper room they met;
thou, at thy table, blessing, yet dost stand:
'This is my body': so thou givest yet;
faith still receives the cup as from your hand.
3 One body we, one body who partake,
one Church united in communion blessed;
one name we bear, one bread of life we break,
with all thy saints on earth and saints at rest.
4 One with each other, Lord, and one in thee,
who art one Saviour and one living Head;
then open thou our eyes, that we may see:
be known to us in breaking of the bread.
Sanctus: Missa de Angelis (click here)
Agnus Dei : Missa de Angelis (click here)
Final Hymn
1 Soul of my Saviour, sanctify my breast,
Body of Christ, be thou my saving guest,
Blood of my Saviour, bathe me in thy tide,
wash me with water flowing from thy side.
2 Strength and protection may thy Passion be,
O blessèd Jesu, hear and answer me;
deep in thy wounds, Lord, hide and shelter me,
so shall I never, never part from thee.
3 Guard and defend me from the foe malign,
in death's dread moments make me only thine;
call me and bid me come to thee on high
where I may praise thee with thy saints for ay.