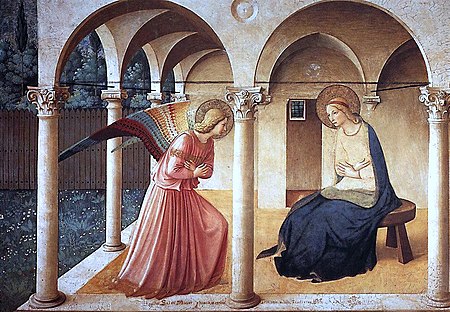 Fr Bob Eccles is surprised by how, at the Annunciation, God asks a gift of Our Lady – and reflects on the surprise to us that we too have gifts to give to God… Some words of encouragement as we enter Holy Week.
Don't look now, but there's an angel in the room!
Ask the children of my parish about this gospel, and  they will tell you how Our Lady accepted without question what the Angel Gabriel told her, and at once consented to be the Mother of her Lord.  She's just the person to say let it be to me according to your  word – (let what you have said be done to me, it says in the version of the Jerusalem Bible).  So we should all be equally prompt to listen and obey? Well at least the children should?  Children's liturgy, pin-down therapy for little Catholics.  Sure enough, the catechists will soon be back to tell them how Our Lady wants them to keep their room tidy!
But of course it didn't exactly happen like that, not in St Luke's vision of things. Our blessed Lady was not at all prepared for what the Angel Gabriel had to say.  A little later in the gospel we come upon another annunciation, the annunciation made to the shepherds by more angels, and they were terrified.  And Mary herself, (her name in Hebrew is  Miriam, some say it means 'the beloved'),  was clearly alarmed and perplexed by Gabriel's words, it says here, she was greatly troubled at this saying.  The proof that the Lord our God has landed is not that you are all smiles, rather you are brought up  short, deeply disturbed and shaken up in fact.  Oh for God's sake not an angel, what have I done now?  Didn't she puzzle her head to know what this greeting could mean?
They had a year for the Consecrated Life. What a fuss!   They put out all those videos where the friars and the sisters talked about how they received their vocation. Vocation?  There's a puzzle.  You mean that God had a plan?  You saw what he was about?  There were explanations?  Well good for you.  What about the people who have to live, perhaps for years, in the dark and seriously puzzled about what God is doing with their lives. Or scared  even.   Just having to trust the Author of life  to know that everything is all right with you, day by day? You too are the beloved.
Do you have a favourite picture of the Annunciation? Ours  at Blackfriars is the lovely one by the Dominican artist Fra Angelico where Gabriel comes rushing in from the garden to Mary or Miriam who is seated in a loggia, an open veranda or outdoor arcade. How fortunate, to enjoy a loggia.  Mary sits there looking intently at him, unsmiling, hands folded on her breast, as you would be if you were taken aback, it's that self-protective gesture.
At this moment her angel is saying Rejoice, so highly favoured!  But she looks as though she hasn't taken it in.  Gabriel is centre stage, attracts our attention more  than the young girl Miriam, he is so numinous, larger than life and startling.  People will send you pictures of angels on their Christmas cards.  They believe the Christmas story, well they do just a little, but they wouldn't dare go the whole hog and send a baby in a crib.  They have no idea!  Biblically speaking, an angel is incredibly more demanding and overwhelming than a  baby. Seeing an angel tells you that you have come to the Holy of Holies and  the presence of the living God.  An angel never comes except to disturb you and challenge you, rip your world apart even.
There's just nine months to go to Christmas. There is just so much of Christmas, it's the giving and receiving time, all the confusion of Christmas wrapping paper and string.   Just so many presents to wrap  before we tumble into bed on Christmas Eve,  surrounded by  blown-out candles and  walnut shells on the carpet.  It could be just so much fuss and activity to stop ourselves noticing that an angel has passed, to set us in the presence of the living God, the God of our lives.  All that we have and are has been given us by God, our capacity for making others happy,  for love and friendship, all the affections of the heart.   If an angel calls, perhaps he has come looking for just those gifts.
I think of how the Lord God came to ask a gift of Miriam, the gift of her mothering.   There seems no possible sense in which the Creator and giver of all good things could possibly want anything a human being can give, but apparently there is something only a young girl whose people are of David's line can possibly give now. Mary-Miriam has nothing that is all hers. All she has is of God.  Yet the angel comes looking for the beloved, comes asking for her Yes to God, her 'let is be done to me', her Yes, so faithfully, so generously given.
If he should come to us, if his angel should pass by, it may not be to leave a  present.  It could be to ask from the beloved of God the gift we never thought he might ask from us.  What might that be?  How surprising that there could be something that is ours to give, that is really needed now: our availability, our freedom, our small presence in the world, our perhaps timid gift of ourselves, that  the dear Son of God himself might find a home in us.  Christ was born of Mary that he might be born again in our hearts, says the Dominican teacher of life, Meister Eckhardt.  Let it be done to me according to thy word,  Mary said to Gabriel. Mary is the type and pattern of the Church, and the Church is Mary, mother of the faithful, mother of all disciples.  I wonder, do I still have the courage to say it, when I am all alone in my loggia,   Mary-like,  or going among the people I'm given to love,  Be it done to me according to thy word?