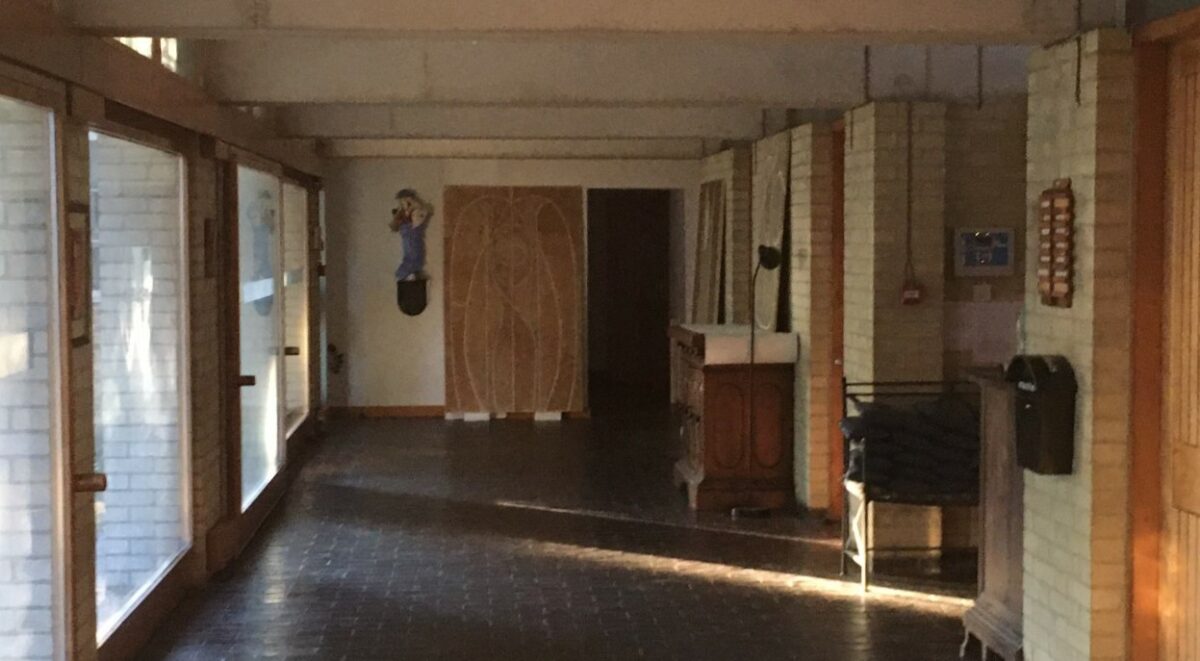 Welcome to the visual art of the Minor Prophets Exhibition. To give more of a sense of place, all the works have been photographed in the exhibition context. This means that in some cases there are reflections off the glass of the frames, which for us, is part of the picture's relationship with the particular space and community which is Blackfriars.
Notes on the art and the artists can be found after the gallery and video.
Photographs by Fr Gregory Pearson and Sr Rose Rolling.
Video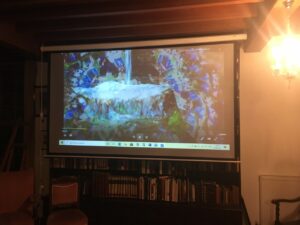 Video: Ora pro nobis, by Sr Marie Pavlina Kašparova (click to watch)

Sr Marie created Ora pro nobis ("Pray for us") as a 'visual litany' for the Basilica of St. Zdislava at Jablonne v Podještědí in the Czech Republic. St. Zdislava was a Czech princess and Lay Dominican known for her work for the poor. Nowadays her basilica is a place of pilgrimage. You can see photos of the projection of Ora pro nobis at Jablonne here, and a translation of the litany here: Litany of St Zdislava
Notes on the art and the artists
Sr Tamsin Geach: no. 6. Sr Tamsin is a Dominican Sister of the Congregation of St Catherine of Siena, (Stone) and works as a catechist and a teacher of Latin. Sr Tamsin writes:
I often paint or draw as a side-effect or accompaniment to prayer.  I painted the picture of St Dominic whilst on retreat. I was experimenting with painting faces, but not explicitly trying to paint anyone in particular, but when I reached a certain point, there was Dominic looking back at me – it only remained to paint in the Dominican habit and some other details.
Bronwen Gordon (Pulsford) (1922-2014): nos. 14, 16, 17, 25-27. Bronwen taught at the Edinburgh College of Art from 1948-1950, later become freelance. Preferring sacred work, and with a particular love of detail, textured surfaces and modelling, she produced stained glass and mosaics for entire churches, as well as smaller pieces, using both etching and stained glass methods. She became a Lay Dominican in her native Scotland, joining the Cambridge Fraternity in 1997. She created the Upper Chapel windows, with the sponsorship of the congregation, in the 1990s.
Steven Grimwood: no. 23. Steven is a Cambridge Lay Dominican, a civil servant, and a member of the British Association of Iconographers. Steven writes:
The Trinity icon presented here is based on the famous and much-venerated prototype by the Russian monk and master-iconographer St Andrei Rublev (c.1360 – c.1430). It is sometimes referred to as the 'Hospitality of Abraham' (Genesis 18).
A chance 'accident' in the paining of my version of the Trinity icon brought to mind another scriptural text, from the prophet Isaiah, which I have used as the sub-title of the work. Thus says the LORD: Heaven is my throne and the earth is my footstool; what is the house that you would build for me, and what is my resting place? (Isaiah 66:1, NRSV). With this in mind, I exploited the 'accident' to introduce a contemporary 'twist' to the icon, for which I hope I may be forgiven.  (Can you spot where it is?)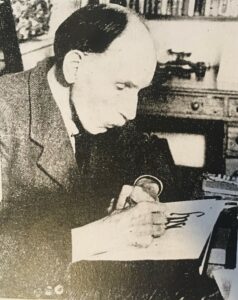 Patrick Herron (d. 2003): no. 2. Patrick was a Lay Dominican and peace activist, who died in 2003. His piece was loaned by Jill Gunsell, President of the Cambridge Lay Dominicans.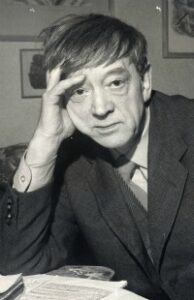 David Jones (1895-1974): nos. 3, 7, 8, 9, 10, 28. David Jones was one of the most distinguished British artists and poets of the twentieth century. He had a connection with Cambridge through his friend and benefactor Jim Ede, founder of Kettle's Yard contemporary art gallery. Jones would sleep on the top floor of Kettle's Yard, formerly Jim and Helen Ede's house, and now housing several of Jones's works. Jones corresponded with the Cambridge Dominican friars Thomas Gilby, a philosopher, Illtud Evans, a spiritual writer, and Conrad Pepler, who himself had been born in the Ditchling artists' commune where Jones became a Lay Dominican during his apprenticeship to Eric Gill (1921-25). Jones gave some of his works to his Cambridge Dominican friends, which is how they have come down to us.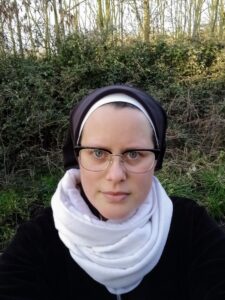 Sr Marie Pavlína Kašparová: nos. 4, 5, 18, and Video. Sr Marie Pavlína Kašparová OP is a member of the Czech Congregation of Dominican Sisters, a freelance artist, theologian, researcher and life seeker. She lives and works between Cambridge and Brno, Czech Republic. Sr Marie writes:
For me, the world is God's manifestation of love for humankind. In my work, I address my fascination with creation and I try to share my perception of this love and beauty with others and call for conscious and responsible living together.
Visit Sr Marie's website for more artwork, or contact marieATdominikanka.cz to discuss commissions.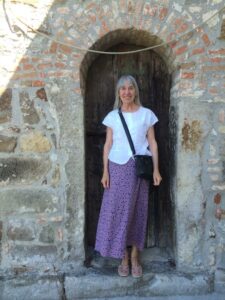 Zlata Vrabec: nos. 11, 12, 13. Zlata is a Cambridge Lay Dominican, born in Croatia. She makes paintings and icons from the stuff of the earth which glimpse an eternal destiny.
11. Archangel Gabriel. "Gabriel – contemplating the Angels I 'saw' God's 'finger' writing the icon of the Angel Gabriel in sand for us to us to see an imprint with our eyes. The upper part of the image is the Angel's eye always oriented to the face of God; the vertical white line is the Holy Spirit through the curved lines bellow suggesting Mary's pregnancy."
(Yellow sand from the Egyptian desert, white sand from the Holy Isle of Iona with white and blue egg tempera, on calico, on board).
12. Archangel Michael. "Michael – the image followed Gabriel immediately- as if the Angels were twins. The Angel offers a clear direction with his sword: a triangle in which the vertical white line stands for the Holy Spirit, the red curve- the blood of the Lamb- justice and mercy have met. The wings also have a shape of a sword – administering justice and truth."
Sand from Wales and Norfolk, red pounded rock from Spain, white tempera, calico on board.
13. Archangel Raphael. "Raphael – the curved white line(s) is/are the Holy Spirit – thus suggesting that healing is as a journey – highlighted again by the vertical reliefs which cast shadows as the sun 'travels' towards the West."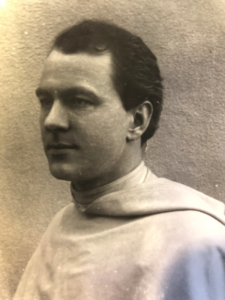 Aelred Whitacre: nos. 15 and 24. Fr Aelred (1882-1945) was born into a family of Birmingham artisans and industrialists, entering the Dominican Order at the age of 17. A metaphysician and theologian, he spent much of his life teaching and giving retreats, and was remembered by the Ditchling artists' community for his warmth and humour. He created the Stations of the Cross at Blackfriars, Oxford, and also contributed to the exhibitions of arts societies in Edinburgh, where he was based for a while. The great mystery is when, how – and indeed if – Fr Aelred was trained as a sculptor. If anyone knows, please email us via the Contact page!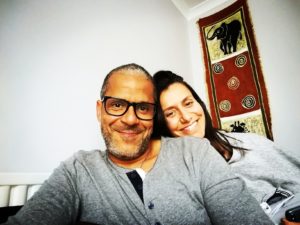 Eddie (Edmund) Zengeni: nos. 19, 20, 21. Eddie is a Radio Maria England DJ, painter and musician of Black Zimbabwean and Glasgow Irish heritage (click here for music in the exhibition by his band Zengenergy, formed with his wife Emmanuela Di Pietro and friend Davide Pistoni). For his visual art he is especially inspired by the cartoon artist Mort Drucker. You can also read Eddie's blog posts for Blackfriars on Black Lives Matter and on fatherhood under lockdown. Eddie writes:
My art here both visual and musical along with my Catholic faith is an integral part of my very essence. I believe art just like our faith, bridges the gap between the finite and infinite and allows us to transcend the mundane every day trials and tribulations that we all have to face. I hope you enjoy listening to the music and pondering the art just as much as I enjoyed putting it all together.
I have been coming to Blackfriars my entire life and have seen many people come and go. It's always been a spiritual haven for me as a little boy growing up, a rebellious teenager and now a mature middle aged father of three! The Dominicans have always been there for me through all my ups and downs.