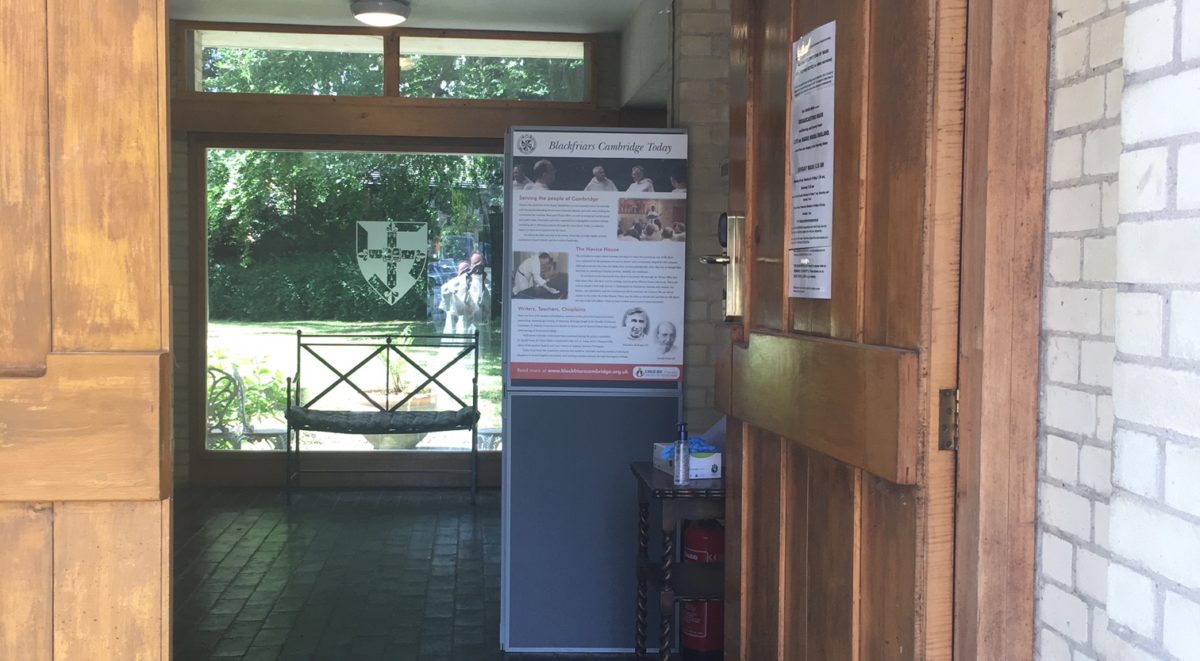 The Holy Preaching – The Eight Evil Thoughts
The next talk in our Sisters' series is Lust – Fruitless Disunity – THIS WEDNESDAY 11th May at 7.30 pm The talk will take place at the St Catherine's Convent, 155 Huntingdon Rd, with cocoa and cake, and will conclude with Compline.
Blackfriars Communio Circle
WEDNESDAY 18th May at 7.30 pm
Fr Dominic will lead a discussion for Our Lady's month on Margaret Barker's paper, The Images of Mary in the Litany of Loreto. Click here to download the paper: http://www.margaretbarker.com/Papers/USU_Barker.pdf?origin=publication_detail&msclkid=e6161397ced711ec8291ee366fd819b6
Thy Kingdom Come: An Introduction to Catholic Social Teaching
In response to interest from members of our congregation, Fr 

Euan Marley

 and Sr Rose Rolling are running a series of introductory online talks on Catholic Social Teaching, The Kingdom Come. These start on Friday 20th May at 7 pm, running for 10 weeks. Suggestion donation: £20. Please contact Sr Rose for details and to register: roserolling.opAToutlook.com
Concert at St. Dominic's Priory, London
On Saturday 21st May at 7.30, at St. Dominic's Priory, London there will be a concert of music by Sir James Macmillan, the Scottish Catholic composer, to celebrate 800 years of the Dominican Order in Britain. Details and tickets here: https://www.eventbrite.co.uk/…/sir-james-macmillan…
Memorial Mass for Fr David Sanders OP
A memorial Mass for Fr David Sanders OP, who was for many years a member of the Cambridge Priory, will be held at Blackfriars Oxford, where Fr David spent his last years, on Saturday 28th May at 10.30 am. May he rest in peace and rise in glory!
PRAYER AND THE SPIRITUAL LIFE WITH ST. THOMAS AQUINAS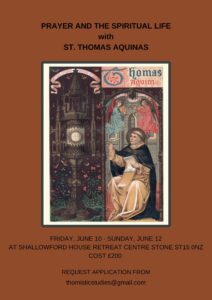 Study Weekend FRIDAY, JUNE 10 – SUNDAY, JUNE 12
at Shallowford House Retreat Centre
STONE ST15 0NZ
COST £200
REQUEST APPLICATION FROM: Sr. Valery Walker O.P. valeryewalkerATgmail.com or thomisticstudiesATgmail.com
CORPUS CHRISTI PROCESSION AND PICNIC
On the Feast of the Body and Blood of Christ (Corpus Christi), Sunday 19th June, we will have a procession ending with Benediction into the garden after the 11 am Mass, followed by a bring-and-share picnic. Do join us!
After Corpus Christi the Sunday 9.15 and 11 am Masses will move into the garden for the summer.