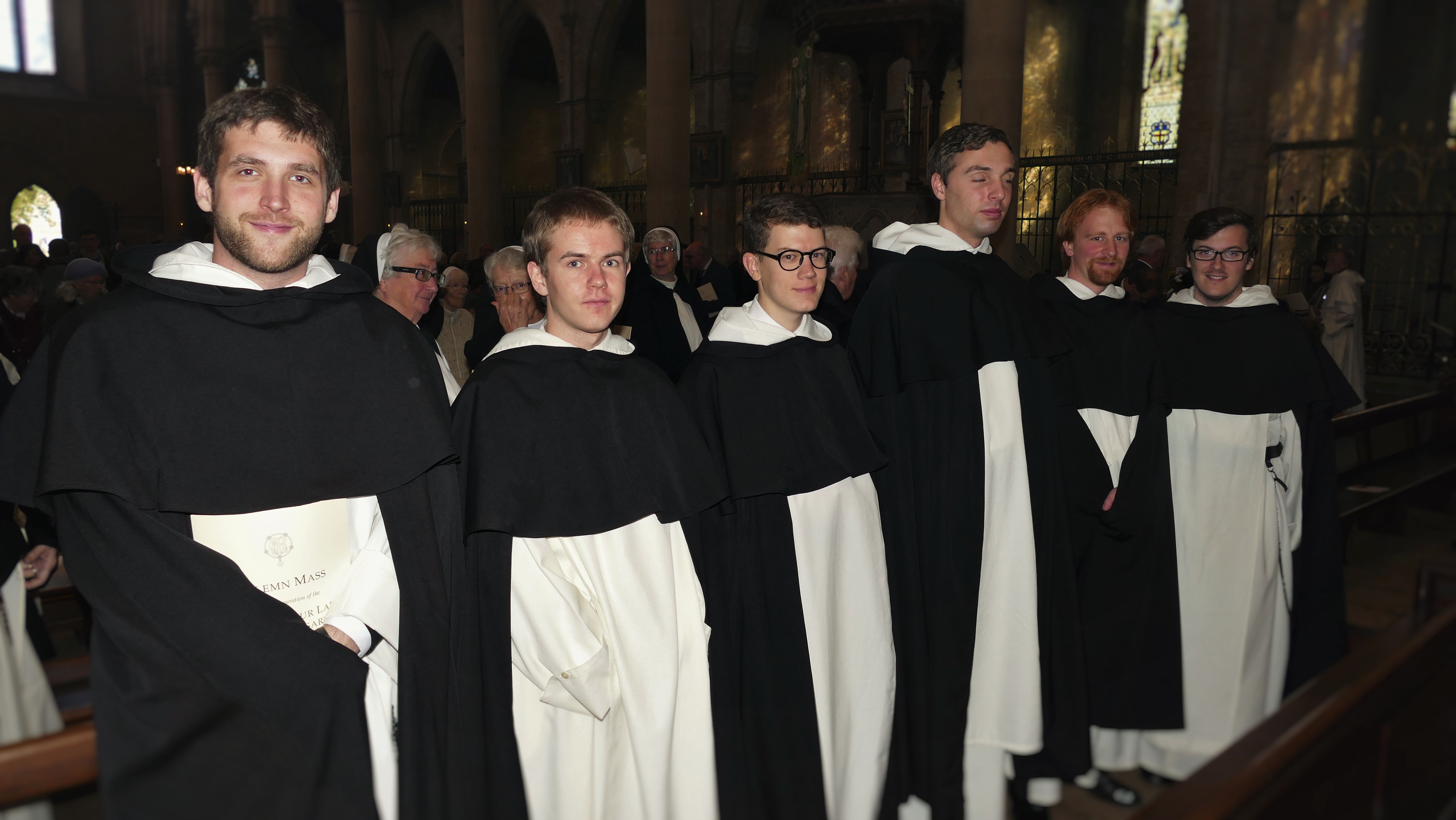 The novices were very blest to join Cardinal Vincent Nichols, Archbishop of Westminster and Fr. Martin Ganeri OP, Prior Provincial of the English Province at the Solemn Mass to celebrate the inauguration of the Shrine of Our Lady of the Rosary, at St Dominic's Priory, London.
At the Mass, celebrated by Cardinal Vincent, and attended by a multitude of bishops, priests, religious brothers and sisters and faithful lay people, the Shrine was established for the promotion of the Holy Rosary and as a special place of pilgrimage for those seeking the intercession of Our Lady of the Rosary. The procession for Mass was lead by the novices carrying embroidered banners depicting the mysteries of the Rosary. The procession reminds us that we are walking in the path already trod for us by Jesus in his life, death and resurrection, and that we walk, just like him, with the sure support and love of Our Lady.
In his homily, Cardinal Vincent prayed that the
'church, established as our Shrine of Our Blessed Lady of the Rosary, will help us all to come closer to the Lord and let the saving mysteries of his life, death and resurrection, find a throne in our hearts. I pray that the rhythm of the Rosary will become the rhythm of our lives, a powerful beat indeed'
The Mass was followed by a reception and a chance for the novices to see many of the province for the first time since their clothing. It was great to be able spend time with Dominican sisters and other members of the Dominican family. In the evening, the Shrine hosted an evening of Adoration of the Blessed Sacrament which attracted many young people who came to pray the Rosary and seek Our Lady's intercession.
Please pray for the mission now entrusted to the Dominican community at St Dominic's, that the Shrine may not only be a special place where the Rosary is loved and prayed, but a centre for the New Evangelisation.
More pictures from the Mass and reception can be found via the Shrine's website linked below.
Please Keep the Novices in your Prayers