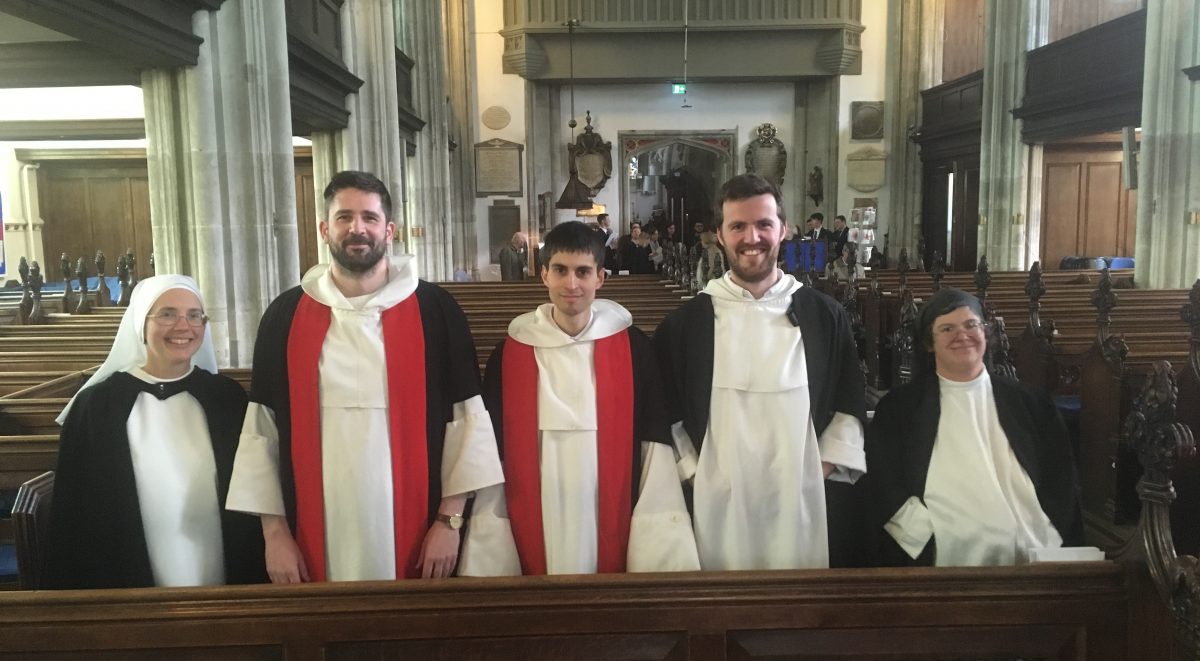 It was not only red liturgical vestments that were required as the novices attended the annual Fisher Mass in celebration of martyred alumni of the University of Cambridge. Doctors' Scarlet was on show as congregants wore their most festal academic dress.
Falling on the May Day Bank holiday, this mass commemorates the thirty-eight alumni of Cambridge who shed their blood for the Catholic faith between 1535 and 1681. St John Fisher, Bishop, Cardinal, of Michaelhouse and Queens' Colleges, leads the roll of honour as onetime Chancellor of the University. The list also includes St Philip Howard, Earl of Arundel, of St John's College whose relics are buried in the Cathedral of Our Lady and St Philip Howard in Arundel; and St John Houghton, Carthusian, protomartyr of the English reformation.
Mgr Roderick Strange preached an uplifting homily, urging members of the University to follow the martyrs both in their faith and in their legacy as Cambridge alumni. Music for the mass included the introit O quam gloriosum and the Missa O quam gloriosum based on the aforementioned introit by counter-reformation composer Tomas Luis de Victoria (1548-1611). Organ Music opened with Incantation pour un Jour Saint by Jean Langlais (1907-1991) and the mass closed with Fantasia in G Major, 'Piéce d'Orgue' by J.S. Bach (1685-1750).
The annual Fisher Mass is held most graciously in the University Church of St Mary's, an opportunity to acknowledge the great ecumenical work that bridges the time of the reformation martyrs with our own.