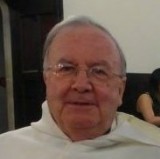 We were very saddened to learn that our brother Fr David Sanders OP has died, after a courageous battle with cancer. Although he spent the last twenty years based in Oxford, he was a leading light at Blackfriars, Cambridge during the 1980s and 1990s. Fr Aidan Nichols remembers Fr David's Cambridge years.
Father David Sanders was a central figure to Blackfriars Priory as I knew it in the early 1980s.  His combination of passion for the Scriptures and a lively interest in other human beings, laced with humour and a dash of unction, drew undergraduates to him in the context of the Bible Study Group at Fisher House (never short of members in his time) and the University's Divinity faculty where he supervised' in New Testament studies.  A rather elderly community of friars was seeking reinvigoration through reinvention as a 'mixed community' of friars and graduate students (with the occasional fourth year undergraduate), and he was the perfect advert for what such an institution might offer.  In manner he was extremely English, yet he gravitated to overseas students, the more exotic the better.  He had the benefit of a broad 'Third World' experience: as a schoolmaster in East Africa following his own University studies in London, in work with the internationalist outreach of a lay Catholic organization which he kept up throughout his Ordination training at Blackfriars Oxford, and via his first Dominican 'assignation', to Kingston Jamaica, to teach Scripture in the archdiocesan seminary there from a base in St Theresa's parish, then run by the long-established Grenada Dominicans with assistance from the Home Province.   The Jamaican experience gave him a lifelong love for the Caribbean world, where he regularly refreshed his contacts by lecture tours, wisely scheduled for the less clement months of the British calendar, and in his last years David was the enthusiastic coordinator the St. Martin Mission campaign, which raises money for the Dominican apostolate in the Caribbean.
David's elder brother John, a former senior army officer who sadly predeceased him a couple of years ago, had occasional doubts about the probity of David's politics, described as a pale shade of pink, yet unbeknownst to all but a few David had been taking part in Roger Scruton's enterprise of smuggling Western intellectuals into meetings with Czech dissidents in pre-Velvet Revolution Prague.   His social concerns did, however, include those of the classic Left, and he viewed with incomprehension the insistence of the Blackfriars Librarian, the Dante scholar Kenelm Foster, that paperback translations of the works of Liberation Theology he had acquired would have to be housed on the landing outside the Library proper.  David was a powerful preacher, who emulated Karl Barth's maxim that the homilist should have the Bible in one hand, the daily newspaper in the other.  I recall his horror when through ignorance I assigned that formula in his hearing to Billy Graham.  David's departure for Blackfriars Oxford in the later 1990s was fully compatible with his continued Scripture teaching, now transferred to the Hall-Studium, but his role as master of students inevitably altered the chemistry of his easy interaction with the young which worked so well in the Cambridge setting.  There will be many Cambridge students of that era who will shed a tear at his passing.
May he rest in peace.