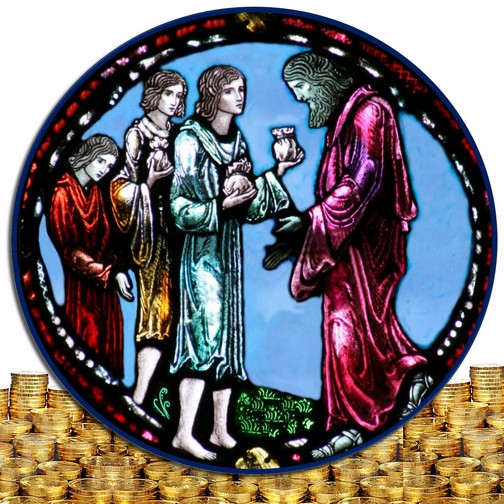 Entrance Hymn
1 O Jesus, I have promised
to serve thee to the end;
be thou forever near me,
my Master and my Friend;
I shall not fear the battle
if thou art by my side,
nor wander from the pathway
if thou wilt be my guide.
2 O let me hear thee speaking
in accents clear and still,
above the storms of passion,
the murmurs of self will.
O speak to reassure me,
to hasten or control;
O speak and make me listen,
thou guardian of my soul.
3 O Jesus, thou hast promised
to all who follow thee,
that where thou art in glory
there shall thy servant be;
and, Jesus, I have promised
to serve thee to the end;
O give me grace to follow,
my Master and my Friend.
3 O let me see thy footmarks,
and in them plant mine own;
My hope to follow duly
is in thy strength alone;
O guide me, call me, draw me,
uphold me to the end;
and then in heaven receive me,
my Saviour and my Friend.
Mass setting:
Creed:
Offertory Hymn
1 For the beauty of the earth,
for the beauty of the skies,
for the love which from our birth
over and around us lies:
Refrain:
Lord of all, to thee we raise
this, our sacrifice of praise.
2 For the beauty of each hour
of the day and of the night,
hill and vale, and tree and flower,
sun and moon and stars of light: [Refrain ]
3 For the joy of ear and eye,
for the heart and brain's delight,
for the mystic harmony
linking sense to sound and sight: [Refrain]
4 For the joy of human love,
brother, sister, parent, child,
friends on earth, and friends above,
for all gentle thoughts and mild: [Refrain]
4 For each perfect gift of thine,
to our race so freely given,
graces human and divine,
flowers of earth and buds of heaven: [Refrain]
5 For thy Church that evermore
lifteth holy hands above,
offering up on every shore
this pure sacrifice of love: [Refrain]
Communion Hymn
1 Jerusalem the golden,
with milk and honey blest,
beneath your contemplation
sink heart and voice opprest.
I know not, O I know not,
what social joys are there;
what radiancy of glory,
what light beyond compare.
2 They stand, those halls of Zion,
conjubilant with song,
and bright with many an angel,
and all the martyr throng.
The Prince is ever in them,
the daylight is serene;
the pastures of the blessed
are decked in glorious sheen.
3 There is the throne of David;
and there, from care released,
the song of them that triumph,
the shout of them that feast;
and they who with their Leader
have conquered in the fight,
forever and forever
are clad in robes of white.
4 O sweet and blessed country,
shall I ever see thy face?
O sweet and blessed country
shall I ever win thy grace?
Exult, O dust and ashes!
the Lord shall be thy part:
his only, his for ever,
thou shalt be, and thou art.