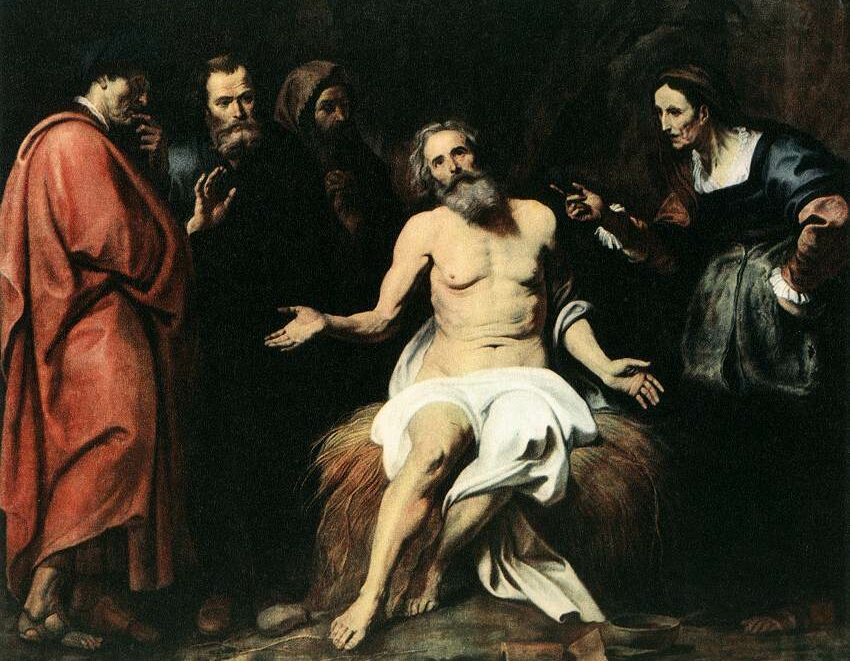 Fr Bob Eccles looks very honestly at those days (maybe a lot of them during this present time) when we've had enough – and introduces us to hope, in the form of the Sacrament of the present moment…

Have you ever known days that last for ever? It certainly happens for those who suffer loss. In our sadness and heaviness then, time seems to stand still. We go to bed sorrowful and getting up in the morning provides no relief. If you know what this is like, then it's your situation the book of Job is describing (5th Sunday in the Year of Mark, Job 7. 1-7). Job is a man of sorrows, he has life taken away from him, for he has lost health and family and prosperity and all. Every day is a penance and the hours of darkness bring no relief. "When I lie down I say, 'When shall I arise?' But the night is long, and I lie tossing till the dawn." As so often, the Bible describes human suffering very acutely. The worst of it is, Job knows no reason for his desolate state. He has done nothing to bring his troubles on himself, poor man. He has become, the slave of time. Does he find an answer to his search for some sense in all these troubles? He does in the end.
Job's was a night full of unrest and fears and an empty day lacking meaning. The gospel tells of a full night and a day in the life of Jesus, a night and day of rest and activity, companionship and solitude, a time to be active and give life and strength to others, a time to be in prayer to his heavenly Father. Doesn't the gospel writer intend us to understand, his typical day? A day of such blessing, a fulfilled and fulfilling day (Mark 1. 29-39).
What a contrast between the two. In our own lives there can easily be that kind of contrast. 'Pluck the day', carpe diem, says one poet, you know who? Horace. 'Gather ye rosebuds while ye may' sings another? Who was that? that's right, Robert Herrick (show off!) We know the kind of day we would like to spend, when we seize the opportunity to make things happen, perhaps so that those around us can move on – perhaps we get a bit more on top of our own problem – the kind of day we look back on thankfully. And then there are those faceless days we regret because nothing much has happened but a kind of dutiful dogged carrying-on, the dull days, even the Job days, because we can't expect to get through life without experiencing at least a little of what he suffered, emptiness and futility and loss. Monastic literature has much about this accedia or accidie, the listlessness that invades when you have lost the plot. Did you ever find yourself frittering away the time? The Sunday supplements are full of all the daft pointless things you can amuse yourself with in lockdown!
The gospel makes us think about, not only what we believe, but what we can hope for. It's the spring of action then. A good reason to give the faithful for wanting to get back to the community at the altar, is a certain bright hope that our lives will be touched by the life of the Lord Jesus Christ. He is not the slave of time but time's master, and his day is a full one. Think of all the 'doing' words here in the gospel: he teaches in the synagogue, goes into a sickroom, takes a woman by the hand, heals her, meets people coming to the door with their sick now the Sabbath is over, silences demons, goes off by himself, prays the Father, encourages the disciples, goes on his way, preaches in other towns. Jesus spontaneously reacting to situations, going at once to meet the sick and the troubled. Jesus the contemplative, getting up early to be by himself. Jesus before the face of the heavenly Father, who goes on speaking to us from the heart of God.
Job was surrounded by false comforters who, to put it anachronistically, told him he should be having Catholic guilt feelings! Must have screwed up though he don't remember when. His wife who has a bit part in the story is really helpful, why don't you just die? But Job came to see that life is God's gift, and in spite of the worst that can happen, God remains God and Job cannot fall out of God's hands. " I know that my Redeemer lives, and in my flesh I shall see God; I myself shall see him, and no other."
We remember Job not for his pains but for his patience. He is an example of something worth knowing, something we read in the NT, actually in the first letter of St Peter: "cast your care upon the Lord, for he is looking after you."
I don't know about you but I know I may still have Job times to face. I am too left alone with my thoughts and tempted to trivial pursuits. And patient Job, and above all the strong Son of God, rise to reprove me. Christ Jesus is a busy man, he did not fail to get up and face the day for many needed him and I know he needs me, strange to say! May I also learn to make Job's reply, because our redeemer, brother and friend is still at work and he is the master of our times.
I think you may know a great French spiritual writer, his name is Jean-Pierre de Caussade and his famous little book (find it on-line!) is called Abandonment to Divine Providence. He has a marvellous phrase, "the sacrament of the present moment."
There are words to make us pause. Each hour is like a sacrament when we can lift up our eyes to the horizon of the love of God. Today Christ comes to meet us and we are caught up in his day, his prayer to the Father, his loving care for people, his going out to everyone who wants him. Yesterday is lost to us already, tomorrow we are not absolutely in control of. Goodness, at this age I might not make it to bedtime! Today I must live fully in the present, so long as it is called today. The strong Son of God, and he knew sorrow too, comes to us in the now, in the sacrament of the present moment, willing that he should be our Lord, wanting us as active contemplatives, as missionary disciples, losing ourselves in care and concern for all the others. Praised be Jesus Christ today, and for ever. Amen.
A prayer in time of distress
Father of infinite mercy, whose tenderness knows no bounds,
Pour out upon us a Spirit of prayer and of peace,
for we are in great distress.
Those you love are sick, many of your friends have died,
those who care for them are worn out. We do not know where to
turn.
So, only grant us the patience of Job,
who in all his trials did not lose hope,
but placed his faith in you,
and grant us a clear vision of Christ your Son,
who went about doing good
and healing all kinds of sickness and
infirmity among the people.
Grant us today, so long as it is called today,
the strength that comes from the gospel,
that in faith we may pray, in love we may serve,
in hope we may expect your kingdom:
for his sake,
Christ Jesus our Redeemer, brother and friend,
Amen.