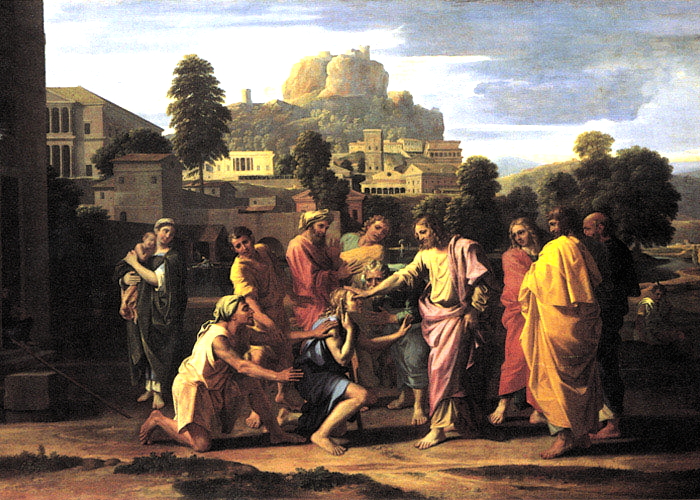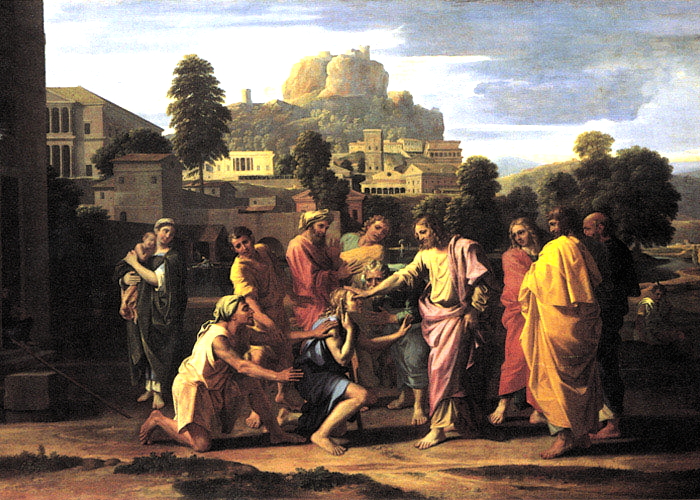 Fr Bob Eccles reflects on the faith of Bartimaeus, the blind beggar healed by Jesus – and on all who do not see the Lord, but love Him. (Gospel of the 30th Sunday of the Year (B), Mark 10:46-52)

And when he heard that it was Jesus of Nazareth he began to cry out and say,  "Jesus, Son of David, have mercy on me!"
Nobody else tells stories quite like Mark.  It's not straight reporting like the Daily Mail gives you.  Mark is very literary, he makes you work at it, it's not as simple as it looks.   What's the point of a story like this?
Mark is the only evangelist to remember the man's name, and that is unusual,  how often are we given the names of such people? I've never asked his name of the man who begs outside Aldi.  High time I did.  Most of those who are touched and healed by our Lord just disappear, we never hear any more about them.  To this one he also says Go on your way, but he won't.
We are told that he called Jesus by shouting a holy name, one that could only belong to the Messiah, and that's exceptional. The crowd is exasperated.  Who needs a shouty person?  Other than Peter at Caesarea Philippi, no other human being has given Jesus a Messianic title like Son of David.  In Mark's gospel it's only the deranged, or as it says those who are possessed,  who ever shout out such names.   Well  demons are spiritual beings – I think they expect to meet our Lord on his own level of life,  and for them to utter sacred names is probably an attempt at control,  the spirits are trying to  wrestle power out of him –  I know who you are, the Holy One of God –  and we see what happens.   Be silent and come out of him! the Lord shuts them up.  But on the lips of Bartimaeus, Son of David is a cry of faith. How beautiful his faith, his prompt and urgent faith!  He abandons his cloak with the pennies he had collected on it, springs up and runs towards the light of the world.  The crowd is converted, they actually encourage him!
We are told that immediately he received his sight from the one he calls my Teacher, Rabboni,  he followed him on the way.  That's unique, other healed people when they are told to go their way, go where they belong, go home.  We also can't forget that in the NT,  "the way" is the universal word for all  following of our Lord.  In the Acts of the Apostles we read how Saul would seize anyone who belonged to the Way and send them bound to the priests.   The beggar-man has found,  what the man who had great  possessions has only just lost, the way that leads to life.
We soon realize that this is the very last of all those who ever met the Messiah on his journey to Jerusalem, only a few miles away now. It's the last chapter before he enters into the city that rejects the prophets and kills those who call out upon  her,  in the very next episode of the book the Son of David will arrive at the gate of the city of David and all the crowd will shout Blessed is the kingdom of our father David that is to come. On the brink of Holy Week.
And ironically at this very last lap it's the blind man in the crowd who can see who Jesus is, and not the disciples.  Yes he's last.  He's also first. He has something in common with us.   Remember some words from the first letter of St Peter?  "You did not see him but you love him.  Though you do not  see him now,  you believe in him and rejoice with an unutterable and exalted joy, because you believe." We have something in common with a blind man and he was there first. You never saw him either. You never saw him, but you love him.   Because you are crazy about Jesus, our most merciful Redeemer, friend and brother.  You are crazy about him.  You can't always get your head round his church,  but there is nothing wrong with our blessed Lord. Otherwise you'd never bear it. This is why you are not  somewhere else at the moment playing golf.  Well, when I say you,  I also mean me.
We walk by faith and not by sight.  What would it be to live in an age of faith? Who knows!  We call ourselves believers.  People must find us unusual.  They still think Sir David Amess was weird.   The line between believer and unbeliever passes through our middles,  a Jesuit theologian used to say.  Blessed are those who have not seen and yet believe, says the Christ of St John to the apostle Thomas.  As the last word. We are the sightless followers in the way, the way that goes off the page, that leads us on.  On the road to Emmaus he came alongside two of us and they had no joy left, their eyes were kept from recognising him,   but he explained to them from the Scriptures all the things that concerned himself until at journey's end he turned in to eat with them and they knew him then,  in the breaking of the bread.  It is the very pattern of every Eucharist and of this Eucharist as it is the pattern of every Christian life, a passage from not knowing to knowing as we are known.
Eventually we have to get round to what the son of Timaeus actually said to Jesus.  Son of David, have mercy on me.  Surely I have not heard this gospel until I have thought about what this mercy is and who it is for.  Who is it that I hear crying for  mercy on a pl      anet that is becoming a desert?  And what is it to me?  Some translators put instead,  have pity on me.  Pity isn't such a strong word. You might have pity on a fellow motorist who runs out of petrol but it doesn't mean you want him to marry your daughter.  Our pity, watered-down mercy,  can contain equal parts of irritation, amusement and ruefulness.  So sorry about your lovely Persian carpet, Father dear, my dog has misbehaved again.  I forgive you.  Actually that's my job.
In the Bible, mercy is the strongest word.  God is rich in mercy and abounding in steadfast love, he is all tenderness and infinite compassion.  The name of God is mercy, says Pope Francis.  The Pope of The Joy of Love that has all about accompanying, discerning and integrating human frailty and mess.  I did thank him on your behalf when I met him, honest!   I think today of so many people we know who have found themselves in dark places, or just on the threshold of the Christian community,  not too sure of their welcome, not hearing their names spoken with words of goodness and graciousness, as Bartimaeus' was.  And if we understand this gospel correctly we shall be able to reassure them.  You are our brother and our sister,  and you are very much loved, you are our companions on the Way.